Residential
Do you have a vision for your residential landscape?  Or would you like a professional to design it?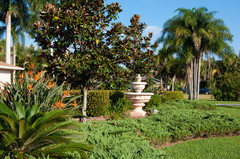 Either way, Estate Scape Services has the answer.  Our experts can use your ideas or ours to create a residential landscape design that meets your personal style and requirements.  We always have your needs in mind.  From lawn maintenance, plantings, to fertilization and weed control we have it covered. 
Quality Services By Our Professional Staff
At Estate Scape Services our experience, knowledgeable staff work directly with you.  We are the one-stop source for all your horticultural needs.  We offer complete lawn care services that include:  lawn maintenance, landscaping, pest control, fertilization, weed control, irrigation, plant health, garden design, garden renovations, tree and palm trimming.
We take pride in giving our customers the best service available!
Call us today at 239-482-6889! Let's get started!
Full Service Company specializing in Lawn, Landscape, Pest Control & Irrigation
Serving Florida - From Tampa to Naples